Contact US
We are currently disabling purchasing from our online store while we work on a new online shop experience. Please contact us if you have any questions.
XDP FUEL TANK SUMP – NO TANK DROP INSTALL XD131-A
$149.95
Application:
Universal – Most Diesel Fuel Tanks (Cutting Required)
Description

The XDP Fuel Tank Sump is designed to eliminate the typical ¼ tank issues associated with the in-tank draw straws typically used with aftermarket fuel systems such as Air Dog and FASS pumps. Designed for better diesel fuel delivery, the XDP Fuel Tank Sump fastens to the bottom of your fuel tank and dramatically increases volume to the fuel pump by allowing you to get every drop of fuel out of your tank. The XDP Fuel Sump is the first sump on the market to feature a single piece horseshoe shaped internal ring allowing for a no tank drop installation. This exclusive feature allows for a faster and easier installation.
NEW! DUAL O-RING DESIGN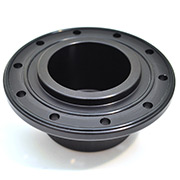 To provide a leak free seal, the XDP Fuel Tank Sump has been re-designed to feature (2) o-ring gaskets that install into machined grooves for a perfect fit! The XDP Fuel Tank Sump is beneficial to all trucks including stock daily drivers, mild street modifications, drag racing applications, and even sled-pulling.
FEATURES:
NEW! Dual O-Ring Gaskets
No tank drop installation cuts installation time
Large opening for unrestricted fuel flow
Made from Aircraft grade T6 billet aluminum
Precision CNC machining technology for a perfect fit
Works great with stock or aftermarket fuel tanks
NOTE: Not recommended for off-road applications or for vehicles with potential ground clearance issues. Extra care must be taken to ensure that fuel tank is free of debris after drilling.